Reading
Our vision is to equip students with the reading skills necessary to thrive in the world beyond school and for them to leave Ryedale School with a life-long love of reading

.
It is well documented that being able to read fluently and choosing to read for enjoyment are vital not only for pupil progress but also for mental well—being. Being able to read fluently is the cornerstone of a school curriculum, so at Ryedale School we support our students in working hard to improve their reading skills and in developing their curiosity about the world around them through reading for pleasure.
Nationally, around 20% of students leave primary school unable to read fluently and accurately to decode words and one in six adults in England have very poor literacy skills. We want Ryedale School pupils to be equipped with the reading skills confidence to thrive in the world beyond school and for them to leave Ryedale School with a Iife-long love of reading. At Ryedale School our approach to reading is underpinned by four key values:
Enjoyment, Comprehension, Fluency, Vocabulary
Enjoyment
"There is strong evidence linking reading for pleasure and educational outcomes. We know that academic attainment is of vital importance, but the benefits of reading for pleasure go beyond this and stretch throughout a person's life." The Reading Agency
Students are encouraged and supported in reading for pleasure in form time, in English lessons and at home; we value very highly the role of parents in supporting and encouraging their children's reading habits.
Students read every day when they arrive at school and it is the school expectation that students will have a book with them. Form tutors are encouraged to share reading with their form with activities such as Christmas reading booklets.
Ryedale Reading Challenges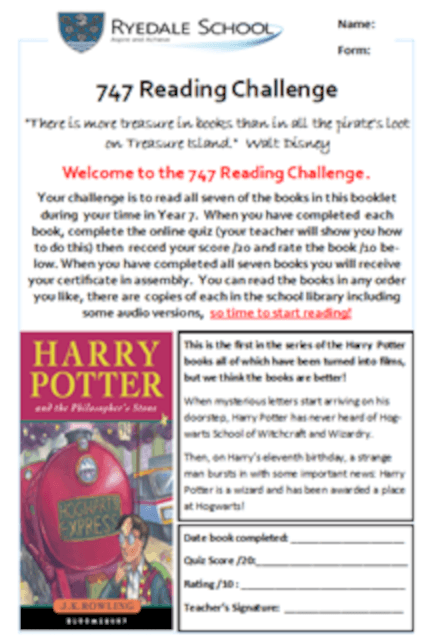 Students are asked to complete a series of reading challenges during their time at Ryedale School. These consist of a number of set books students are challenged to read over the year chosen to be diverse, age-appropriate, to develop students' cultural capital and most importantly to be enjoyable. We believe in reading the right book at right time and so more able readers will have different set books in the challenges and we are currently developing the use of Accelerated Reader to support our less confident readers.
Reading Trees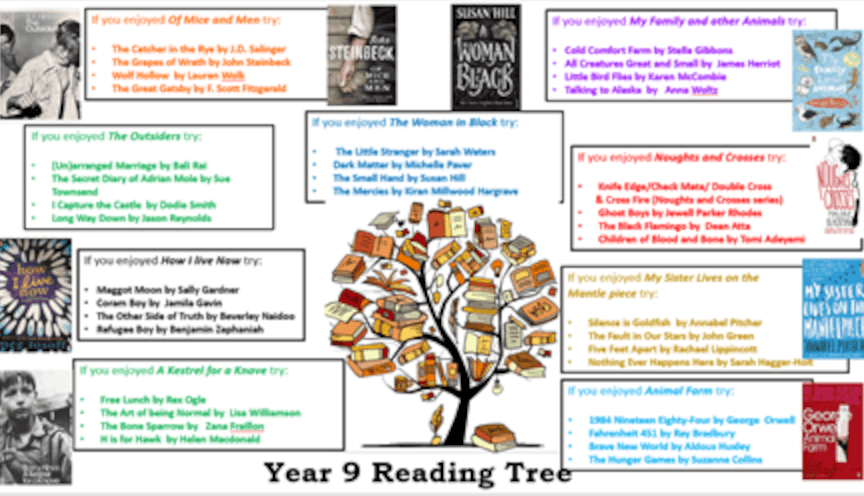 Ryedale Reading trees are designed as guidance for students and parents to choose appropriate and enjoyable books to read. They focus on extending the set books in the reading challenges.
Extra Curricular Reading
A wide ranges of extra-curricular events to support and develop reading for pleasure. These include:
Readathon
Every December students homework is suspended for students in Years 7-9 for two weeks to enable them time to read. We combine this with sponsorship by running a "Readathon" and have to date raised over £10,00 for for the charity" Read for Good" which provide books and support with reading for children in hospital.
Christmas Reading Bingo- students choose their own level of challenge over the Christmas holidays; four corners, a line or full house.
Summer Reading Challenge- students read six books of their choice over the summer holidays.
Stories Aloud Club- a chance for Year 7 students to spend their lunchtime being read to.
Ghost Story Walk- an opportunity for Year 7 students to listen to a range of haunting stories…and even meet some school ghosts!
We also take part in a range of activities as part of national events such as World Book Day and National Poetry Day.
Comprehension and Fluency
All teachers at Ryedale School are responsible for teaching reading skills and our approach to this is based on the guidance from the EEF's Guidance report "Improving Literacy in Secondary Schools" and on Oxford School Improvement, "Building an Outstanding Reading School" 2017.
The English department is at the forefront of developing good comprehension and fluency. reading skills. Reading skills are developed English lessons using the strategy below:
Prediction-students use their prior knowledge to make predictions about what they are about to read.

Modelling- the teacher reads a section of text aloud to model fluency and to ensure students understand what they are reading

Structured Practice- students read a specified section of text either silently and independently or aloud.

Development- students are required to think hard about what they have read: for example by making inferences or thinking about the language.

Summarising – students are asked to consolidate what they have read by summarising it either verbally or as a written task.
We are currently working on developing a similar approach for reading in the school as a whole.
Vocabulary
"Regardless of the causes, low levels of vocabulary set limits on literacy, understanding, learning the curriculum and can create a downward spiral of poor language which begins to affect all aspects of life."
Kate Nation, Professor of Experimental Psychology,University of Oxford
Word of the Week
To help improve students' vocabulary, all students learn a new word and Greek or Latin root word each week in form time. These words are often high frequency "academic" words that students are likely to encounter in range of subjects but that they are unlikely to come across in in ordinary conversation: these words are sometimes known as "tier 2" vocabulary. This year's word include autonomy, demographic and ideology.
We have also identified an additional 25 key "tier 2" words for each year group to learn to ensure that all students experience and can use rich and broad vocabulary.