SMSC and British Values
"

We have more in common than that which divides us."

Jo Cox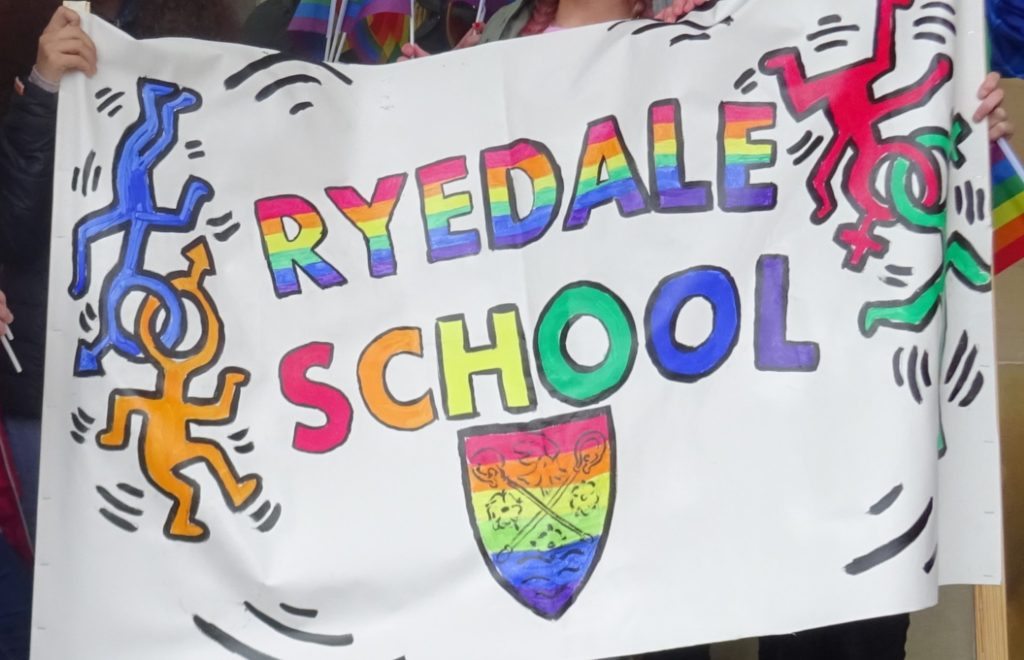 How our young people see themselves, each other and the world around them is shaped by what they learn about here at school. In order to prepare our students for life in modern Britain, we must support them to understand diversity and celebrate difference.
It is a sad fact that discrimination and intolerance exist in our wider community; we want to empower our students to challenge these attitudes and to embody our values of kindness and respect. We are committed to providing our students with opportunities to explore and appreciate more fully the range of different faiths and cultures represented beyond their rural environment. We want our young people to develop accepting attitudes towards those who are different to them and feel proud of the things that make them different themselves.
An Inclusive Curriculum
All subject areas support our commitment to inclusion and diversity; it is vital that our curriculum reflects modern Britain. We also believe it is important that all pupils feel included in and represented by our curriculum; the evidence shows that this makes them much more likely to engage with their learning, achieve better and have positive mental health.
Our SMSC provision is mapped across the school to ensure that students spiritual, moral, social and cultural development is at the heart of what we do.
Student Ambassadors
We have a team of student ambassadors whose job it is to support our commitment to being a truly inclusive school. These teams meet with SLT and Heads of Department, prepare form time activities, work with students, and lead assemblies on all areas of inclusion and diversity.
Student Ambassadors 2022-23:
LGBT+ Ambassadors
Staff Ambassador: Mrs Brown
Student Ambassadors: Ruby Hamill, Niamh Saxby, Ellsa Waites
Environmental Action Ambassadors
Staff Ambassador: Ms Zarb
Student Ambassadors: Lola Steinhauser Somers, Jack Piercy
Anti-Bullying Ambassadors
Staff Ambassador: Mrs Koval-Meth
Student Ambassadors: Charlotte Conacher, Hannah Wood
Mental Health and Wellbeing Ambassadors
Staff Ambassador: Ms Zarb
Student Ambassadors: Eliza Foots, Hannah Putsey, Charlotte Conacher
Charities Ambassadors
Staff Ambassador: Miss Heath
Student Ambassadors: Maddy Cocker, Percy Marwood, Beck Hutchinson
Cultures and Equality Ambassadors
Staff Ambassador: Mr Hopkins
Student Ambassadors: Ellsa Waites, Niamh Saxby
Neurodiversity Ambassadors
Staff Ambassador: Dr Williams
Student Ambassadors: Amelia Forrester, Paddy Burnham, Alex van der Heijden
Teaching and Learning Ambassadors
Staff Ambassador: Mr Hannah
Student Ambassadors: Maia Charman, Jack Piercy
LGBT+
LGBT+ and Allies Club
We meet once a week at lunchtime and usually spend the first part of the meeting chatting and catching up with friends. We then do an activity. This might be watching a LGBT+ documentary or discussing recent news or we create resources for school events. We have planned assemblies for LGBT History Month and Pride Week, we have created posters for staff to display around school, we have created 'guides to coming out' for Pastoral Support and plan on many more things to come! The club is a fun and relaxed atmosphere and attended by around 30 students each week.
What the Club/RFA means to me:
What the LGBT+ Club means to current students:
"To me the LGBT+ and allies club is a safe space where members of the community and allies are free to express themselves, without judgement or worry. It has helped unite people from a mix of year groups across the school, and we've been able to discuss and debate issues that affect all of us as a group. It's not only a place for us to have fun as a club but to also learn about the past and current advocates for the LGBT+ community that have allowed us to be as open as we are, and has given us the chance to speak out about our experiences in assemblies."
"A place where I feel safe and comfortable and where I can be myself at lot more that I usually am."
What going to York Pride means to current students:
"To me, the pride parade trip means that there are other places who openly support LGBT+ members and that the world is becoming more accepting of who people are."
"It means that I can honour the people who fought for my rights in the Stonewall riots in 1969. It also means I can interact with people just like me, it will give me an insight to very diverse people."
What doing the Rainbow Flag Award means to current students:
"It shows me that people care and are supporting people like me."
"It means a lot as people will see Ryedale school as more of a welcoming place to people part of the LGBTQ+ community, which makes them feel comfortable in the environment they are in at school"
Rainbow Flag Award
The Rainbow Flag Award is a national quality assurance framework for schools and colleges, it focuses on positive LGBT+, (lesbian, gay, bisexual, trans, and other related identities), inclusion and visibility.
The award encourages a whole school approach to LGBT+ inclusion, as well as enabling us as a school to develop strategies to effectively challenge phobia directed towards the LGBT+ community. Here at Ryedale School we want to empower all of our young people to speak up for what they know is right.
At Ryedale School we are committed to improving the lives of all the young people that we work with, inclusive of the LGBT+ young people in our care, those from LGBT+ families, and LGBT+ staff members. Furthermore, we are all allies of the LGBT+ community, and we all have a role to play.
Ryedale Pride Week
Our first Ryedale Pride Week was in July 2021, we celebrated by Year 7 decorating their form room doors in a competition (see photos). There was a form time quiz on LGBT+ flags and form time activities. Staff received training in advance of the week so that tutors were well informed and confident in their delivery. Assemblies on the history of Pride were delivered to all students (including virtually!) and we finished with a bright rainbow non-uniform day. Pride Week 2022 is in July!
York Pride
Ryedale took a delegation to York Pride in 2019 and on a rainy Saturday enjoyed participating in the parade with our excellent Keith Herring inspired banner (pictured above). In June 2022 we took another group of students to York to take part in York Pride and had another wonderful day!
Enrichment
Our programme of assemblies, clubs, personal development and citizenship weeks as well as calendared events such as Black History Month, Pride Month and LGBT+ Group and Amnesty Group ensure our wider curriculum supports our commitment to an inclusive and diverse school.
If you would like to learn more about any of the aspects of inclusion and diversity, these links offer advice, resources and guidance.
Celebrating Diversity
https://www.britishcouncil.org/voices-magazine/nine-ways-celebrate-diversity
LGBT+
https://www.stonewall.org.uk/help-and-advice
Stonewall Coming Out: Guidance for Parents https://www.stonewall.org.uk/help-advice/coming-out/coming-out-advice-and-guidance-parents
Yorkshire Mesmac https://www.mesmac.co.uk/
York LGBT Forum https://www.yorklgbtforum.org.uk/
The Proud Trust​ https://www.theproudtrust.org/proud-connections/
Gendered Intelligence​ https://genderedintelligence.co.uk/
Stonewall​ https://www.stonewall.org.uk/
Race Discrimination
https://www.nspcc.org.uk/globalassets/documents/race-and-racism/unicef-anti-racism-resource-pack.pdf
https://www.equalityhumanrights.com/en/advice-and-guidance/race-discrimination