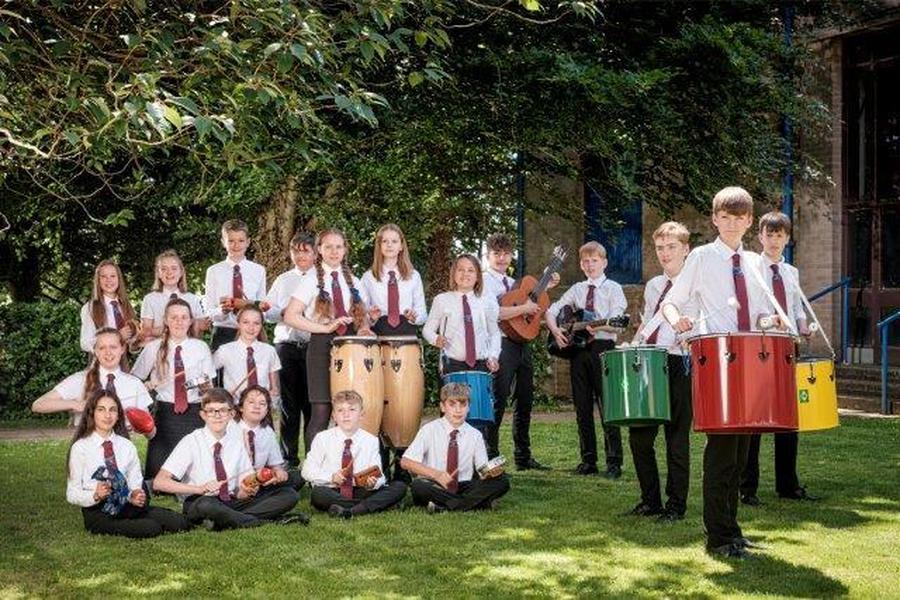 The performing arts department at Ryedale School offers a diverse range of activities. They are enjoyable, high-quality and designed to appeal to as wide a range of students of all ages as possible. Many activities encourage students from different years to work together and many strong friendships are formed as a result of these activities. Public performances occur throughout the school year, both in school and in the local community.
Activities are delivered either by full-time members of the performing arts staff, or by specialist peripatetic teachers. The following activities run on a regular basis, and are open to all relevant students unless stated otherwise:
Brass Band
Cantarla (girls chamber choir, by invitation only)
Concert Band (open to all instruments and abilities)
Dance club
Drumming club
Mantarla (Boys singing and breakfast club)
Rock Group
Ryedale Straynotes Big Band (by invitation only)
Year 7 and 8 Drama club
Year 7 and 8 Singing club
There are usually termly concerts, and some of our more experienced ensembles will perform more frequently than that. Family and friends are always welcome at all our events.
In addition to the above, the following events occur on a less-regular basis:
Drama Productions
These are large-scale performances, occurring once or twice a year, cast by audition and involve fifty or more students from all year groups. Dance is always incorporated in the performances, which are given in the drama studio across two or three evenings. Recent performances include Don Quixote, The Lion, the Witch and the Wardrobe, The Wind in the Willows and Peter Pan.
Whole-School Musical
These bi-annual events, performed to large audiences in the school hall across several nights and one of many highlights in our extra-curricular programme. Cast by audition, involving 100 students or more on-stage, back-stage, in the orchestra or technical crew, they are hard work and great fun! Recent performances include Oklahoma! (2019), The Sound of Music (2017) and Annie (2015).
Music Tours
The Brass Band, Cantarla and Ryedale Straynotes travel to a different European country to give four concerts in four days. Trips include Belgium (2019), the Rhineland (2017) and Four Countries Tour (2015). Post-pandemic we hope to travel to Paris in 2023. The trips are great fun, and involve many other non-musical activities, whether it be eating out, shopping, art galleries and theme parks!
Recital Evenings
These are annual concerts held in the drama studio, one per year. They give a platform for all students who receive instrumental and singing lessons to perform a solo to their peers, staff and family and friends in a friendly atmosphere. They are brilliant occasions which showcase the rich musical talent that we have in all years at Ryedale School.
ABRSM and Trinity Rock and Pop/RockSchool Exams
Students are entered for public individual music exams on a regular basis. The vast majority of ABRSM exams occur in school, with piano accompaniments provided free-of-charge for students by a member of the music department. Candidates are prepared thoroughly by their instrumental or singing teacher, including support with aural tests and sight-reading. The number of merit and distinction results achieved is always high, including in 2020 four grade 8 distinctions. More details about instrumental and singing lessons is available on the relevant page on the school website.
National Youth Choir of Great Britain
The school has a proud record of student membership in the NYC, and in the past three years, six current or former Ryedale School students have performed in the NYC. The standard of singing is high and gaining/maintaining a place involves an annual audition. Talented students are always encouraged to broaden their horizons and perform to the highest-possible standards.